By Barbara Winfield
Fall is just around the corner: Time to get your house in shape for the cooler months ahead. Although autumn can be one of the busiest seasons for homeowners preparing for winter, it's also the best time to take advantage of the moderate weather to repair any damages before the first frost sets in. Here are some home maintenance ideas that will keep your home running in peak condition all winter long.
Exterior maintenance
Check the foundation for cracks and caulk around the areas where masonry meets siding, where pipes or wires enter the house and around the windows and door frames to prevent heat from escaping. "Caulking and sealing openings is one of the least expensive maintenance jobs," says Michael Hydeck, Hydeck Design Build, Inc., Telford, PA, and national president, National Association of the Remodeling Industry (NARI). "Openings in the structure can cause water to get in and freeze, resulting in cracks and mold buildup," he says. "Regardless of whether you live in a cold or warm climate, winter can bring very harsh conditions resulting in water or ice damage. A careful check of the outside structure combined with inexpensive maintenance can save you money in the long run."
Install storm windows and doors and remove screens. Before storing, clean and repair screens, spray with a protective coating and place in a dry area of the basement or garage.
Inspect exterior walls to see if any paint is peeling or blistering on the house or outbuildings. According to Carl Minchew, director, Benjamin Moore Paints, "Peeling paint is a sign that the existing paint film is failing and can no longer protect the siding of the building. Left uncorrected, the siding itself will deteriorate, leading to expensive repairs in the future."
Make sure the roof is in good shape. Inspect for missing and loose shingles. "Ice, rain, snow and wind combined with rapidly changing temperatures and humidity wreak havoc on roofs," says Jay Butch, director, contractor programs for CertainTeed Roofing. "Your roof is your first defense in protecting your home. Without it functioning properly, water damage can occur. This causes deterioration to insulation, wood and drywall, making electrical, plumbing and HVAC systems vulnerable. It's better to proactively deal with repairs in the fall than to discover a leaky roof during a snowstorm. For safety's sake, have a licensed, certified roofing professional check the condition of your roof."
To read the complete article, as published on Zillow.com on Sept. 13th, 2012, please click here.
Landscape lighting can turn a visitor from feeling wary to welcome. It can change the rest of the yard from "Nightmare on Elm Street" to "Some Enchanted Evening," all with the flip of a switch.
The first step in this transformation is to educate yourself about the possibilities. Because photos rarely do justice illustrating the amazing possibilities of landscape lighting, keep an eye out for good examples when you're out for an evening stroll or drive.
The strong lights typically used for entrances and to illuminate large areas, such as driveways and decks, are powered by a 120-volt current. A qualified electrician must wire them directly to your circuit box and the cables, held within a protective conduit, must be buried at least 18 inches below ground. If you have these fixtures, make sure they are UL-listed and approved for outdoor use. The 120-v outdoor lights are also preferred for security applications, especially when combined with motion detection.
When less light is sufficient, low-voltage fixtures (12- to 15-v) are the norm. These include accent lights, path lights, and small floodlights. The fixtures are smaller and less obtrusive, use less energy, and are far less worrisome when in wet locations. They can also be plugged into an outdoor receptacle, making them ideal for do-it-yourself installations. The wiring does not require tools, and the cables do not need to be buried.
Solar-powered outdoor lights, a third option, are of course dependent upon exposure to the sun, and are variable with regard to output and when they turn on. They are best used to light paths where they are exposed to full sun throughout the day. Don't put them in the shade!
Planning for outdoor lighting
Plot out your ideas on graph paper. Draw the footprint of your house to an 1/8-inch scale and sketch in all major landscape elements, including fences, decks, tree, paths, driveways and garden beds. Include the location of any existing or proposed outdoor receptacles as well.
Make notes about what you'd like to illuminate and then decide which fixtures will do the job best. Try to use a variety of lighting techniques. Avoid overly bright and dark areas, and avoid glare for both visitors and your neighbors. Do not place path lights too closely together to avoid the "runway" look. You'll also have to decide about fixture style, of which there are many!
Types of outdoor lighting fixtures
Entry lanterns or sconces: 120-v fixtures that mount beside doors. They should be either frosted glass or shielded to prevent glare. Their size should be proportional to the height and width of the entry area (often defined by a portico).
Recessed lights: 120-v fixtures typically installed in eaves over decks and garage doors. They provide large pools of light but are mostly hidden. Small, low-voltage recessed lights can be used to light stairs, railings, posts, and built-in deck furniture.
Floodlights: 120-v or low-voltage fixtures used to light wide expanses and large interesting objects, such as driveways, stonework and trees.
Path lights: Usually low-voltage fixtures that illuminate paths by casting small pools of light on the ground. Sometimes, perforations in the light shield allow the lights themselves to be used as guides.
Spot light: Similar to floodlights but with a narrower beam for highlighting a specific object, such as a shrub or statuary.
In-ground light: 120v or low-voltage fixtures that are buried in the ground and covered with a gasketed lens. The beam can be angled slightly to illuminate a wall, tree or fence.
Hanging or pendant lighting: 120-v fixtures that are frequently used for entry or porch lighting. Low-voltage hanging lights strung in trees, arbors and pergolas have become popular as decorative accents.
Tip: You can simulate the effect of many of these lights with a strong flashlight. For an uplighting effect, hold the flashlight below the object or surface you wish to light. For a downlight effect, hold it above. Hold a reflector, such as a piece of white cardboard over the flashlight, and place it beside a path to simulate a path light. If the effects you want to achieve are sophisticated, consider discussing them with a landscape lighting designer.
To read the complete article as published on zillow.com/blog, please click here.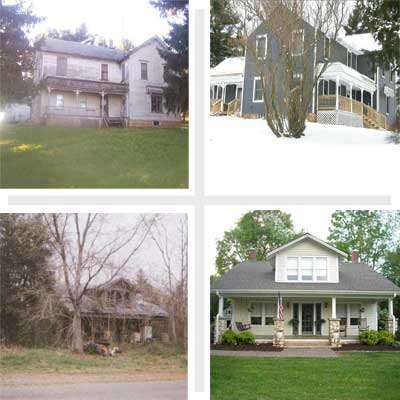 Saving an old house is no small feat. Just ask any of these homeowners, all DIYers who lived to tell the tale. From fire-damaged to foreclosures and everything in between, get inspired by these unbelievable makeovers that'll either give you the restoration bug—or make you really happy your renovation is over.
To read the rest of this article, please click here.