Cramped cooking space? No big deal. Put these smart and functional tricks to the test.Rethink everything-including the sink–to keep this central space beautiful and functional. These kitchen decorating tricks can help any apartment renter or homeowner.
Hey, Up There
A cabinet hung high in a corner commands attention and draws the eye toward the ceiling. Going with bold wallpaper and art also distract from the size of the room.
Showstopping Color
An elegant, theatrical color, like this bright pink, gets plenty of attention, and the cheap cupboards almost fade away. Genius!
Out in the Open
These monochromatic shelves show off a tightly edited collection of plates and glasses, all within easy reach.
From the Corner
A bright color puts an exclamation point on a small kitchen and distinguishes it as a separate zone.
Clear Choice
A see-through acrylic shelf lightens a confined space and makes an artful collection of dishes appear to float. Less attractive pieces are relegated to the cupboards above.
Seating Arrangements
A scaled-down pedestal table plus comfy stools that stay out of the way turn even a bite-sized kitchen into an eat-in one.
Brilliant Idea
Open shelves of gleaming highballs, a shiny glass-tile backsplash, and stainless-steel countertops create a glowing, mirror-like effect in a streamlined kitchen with an ingratiated two-burner stove and small sink.
Optical Illusion
Just like on a sweater, broad horizontal stripes make everything seem wider. This black-and-white flooring creates the appearance of space in a narrow galley kitchen.
To see photo examples and read the article as published on yahoo.com, please click here.
Autumn is generally seen as the season of winding down before winter dormancy. But when it comes to lawn care, fall is a busy time. What you do now will go a long way in safeguarding the health your grass, not only for the immediate future, but also for the next growing season. While on the surface your fall lawn may look a bit bedraggled, the roots below ground are still hard at work, storing up the reserves they'll need to survive the winter and thrive come springtime.
Though at other times of year there are reasons to choose a fast-acting liquid fertilizer, in autumn — about a week after you mow the lawn for the last time — it's best to apply a slow-release granular fertilizer. While the liquid stuff delivers a sudden jolt of nutrients, the granular variety feeds grass slowly over time. In most parts of the country, that's exactly what you want. In very cold regions, pick a fertilizer specially formulated for winter protection — one that's high in nitrogen. If you're lucky enough to live somewhere warm, you already know that fertilizing is a year-round affair. For you, fall isn't so critical. (Boy, you've got it made!)
Theoretically, you could spread granular fertilizer over the lawn by hand. The reality is, however, that doing the job manually leaves too much room for error. While underfertilizing isn't a catastrophe, overfertilizing is a real concern, and it's easy to apply fertilizer too abundantly if you're totally winging it.
Indeed, there's a reason why professional landscapers use walk-behind spreaders. These outdoor tools include a flow-rate lever, which enables the user to set the precise amount of fertilizer to be dispersed per square foot of lawn area. If you're serious about lawn care, a spreader is a tool worth buying.
You'll notice that on your purchased package of fertilizer, the manufacturer lists the ideal number of granules to be applied per square foot. You can set the spreader to release precisely that amount, but here's a superior method: Set the spreader to disperse half of the recommended volume, run the spreader over the lawn in one direction, then take it in the reverse direction, hitting the areas you initially missed. Because the effects of fertilizer are confined to the area immediately surrounding the spot where the granule hits the ground, the key to success is even dispersion. But when in doubt, underfertilize.
Once you've completed the work, clean the spreader before storing it away. Otherwise, the metal components might rust over the course of the off-season. If you're left with a partially full bag of fertilizer, seal it airtight and keep it in a dry place. Exposed to the air, fertilizer hardens up and becomes unusable.
Additional tips
Fill the spreader in the driveway, not the lawn, to avoid spilling and overfertilizing one particular area.
For the spreader to operate correctly, both the tool and the fertilizer granules must be dry.
Wearing gloves is a sensible precaution to take when you're handling fertilizer granules.
To read the article as published on homes.yahoo.com – by Bob Vila, please click here.
We're getting into the time of year when the electric bill makes you cringe. When it arrives in the mail, a cold sweat might break out. You may need to sit down because the knees are feeling weak. And all that happens before you actually open it!
But all is not lost. There are ways to stay warm and keep your hands off the thermostat. Here are five ideas for making it happen
1. When the sun comes out, open your blinds and let those rays in. They can warm the house. On the flip side, cover the windows when it's dark to help keep cold air out.
2. Let's do some detective work. Light a candle and hold the flame near your windows. If you see it flicker, it could mean an air leak. That means hot air going out and cold air coming in. Buy some inexpensive caulking and seal up those leaks. If new windows are in your future, make sure to save up and pay cash, and only do that if the quick fixes are no longer doing the job.
3. Small changes on the thermostat make a big difference on what you pay. If you're used to having the thermostat at 74 degrees, shave it down to 72. You'll probably notice the lower heat bill before you notice two degrees.
4. If you do something that heats the house up, make that activity work for you. If you cook something in the oven, leave the door open after you turn it off to warm up the kitchen (watch out for the kids, though). If you take a shower, leave the door open so the steam flows into the other room. That'll help with low winter humidity too!
And if you're really committed..
5. Pick your favorite hot beverage and start drinking. The warmer you feel inside, the less work the heating unit will have to do. Prepare the hot chocolate or tea! Also, your wardrobe can help you stay warm. Get those socks, sweatpants and sweatshirts out!
To read the original article and other money saving advice on daveramsey.com, please click here.
If you're looking to sell your home quickly and for top dollar, there are some lesser-known words that match the importance of the famous real estate phrase "location, location, location." Those all-important words? Curb appeal.
As the saying goes, "You don't get a second chance to make a first impression." When people drive up and first see your house, you want them to think of it immediately as a home that has been maintained and well cared for.
"It's you putting your best foot forward," says Christy Biberich, owner of Christy B. Design in Los Angeles who appears on the HGTV show "Brother Vs. Brother." "We do judge a book by its cover."
While curb appeal gets buyers in the door, sellers who want to move their homes quickly need to take other steps. The strategy varies by neighborhood and market conditions, but staging a house to appeal to the maximum number of buyers can make difference in how fast the home sells.
"Every property is completely different," says Cannon Christian, president of Renovation Realty in San Diego, a company that helps sellers make improvements designed to get them top dollar. "The little things that get people through the front door matter first."
Obviously you don't want to spend money that you won't get back. Christian advises seeing what improvements house flippers are making in your neighborhood. Comparing the sales prices of, say, homes with older kitchens to homes with kitchens that have been updated is also a good idea. If you see about a $50,000 difference, a $25,000 remodel is likely a smart investment. If homes with original kitchens are fetching close to the same price as those with renovated ones, save your money, since sometimes "it also depends on how hot the market is," Christian says.
You should also spend time scoping out the competition by viewing listings and photos of similar homes for sale and attending open houses in your neighborhood.
Once prospective buyers are inside your home, you want to make sure the entire house puts its best foot forward. That starts with cleaning and decluttering, two improvements that cost little money and provide a big return.
Next, focus on low-cost "transformative improvements," Biberich says. "The No. 1 thing you can do is paint." She advises using neutral tones, but that doesn't have to mean just white and beige, as brown and cream are also safe choices.
Since every dollar counts, hold off on pet projects and only devote your time and money to renovations that'll bring you a return. "If you're looking to sell, do not do the improvements that you've always wanted to do," Christian says.
To see 12 more improvements that can help you house sell for top dollar, please click here.
At summer's end, once school is back in session, many of us start looking forward to Halloween. It's a holiday adults can enjoy as much as kids. But, homeowners do have one serious obligation on this fun night: If you expect trick-or-treaters, you must make sure the path to your door is a safe one.
Take no trips
Inevitably, some giddy ghosts and ghouls will race excitedly to your door. Be prepared. In the full light of day, inspect your lawn, driveway and front path for trip hazards like exposed tree roots, cracks in concrete or missing pavers. Make repairs where possible or, at the very least, cut off access to unsafe areas. Meanwhile, if you've decorated the front yard with decorations like light-up pumpkins and animated figures, relocate the electrical cords so they're not in anyone's way.
Light the way
Make sure the path to your house is bright enough for trick-or-treaters to approach safely. You don't need to install a full suite of year-round landscape lighting simply to accommodate visitors on Halloween night. There are plenty of temporary and affordable options for illumination, from glow sticks to tea lights. And though it may seem more in keeping with the mood of this spooky night to switch off your porch light, it's much safer — not to mention more inviting — to keep it on.
Resist flammable decor
Whether vandals or accidents are to blame, there are many more fires on Halloween than a typical October night, according to Federal Emergency Management Agency (FEMA). Holiday decorations are often quite flammable, involving materials such as paper, hay and dried cornstalks. If you can't resist adorning your home and yard with such potentially dangerous items, then be sure to keep them away from candles and other heat sources. If jack-o'-lanterns or luminaries figure into your celebrations, illuminate them using LED tea lights, not open flames.
Curb your dog
Chances are yours is a friendly dog. But if some Halloween costumes are so convincing as to be frightening to small children, those same getups could be equally disturbing to your pooch — particularly on such a high-energy night. It's good sense to contain your dog in an indoor space that's both comfortable and secure.
A festive parade of goblins and ghouls, princesses and superheroes will soon be marching to your house. Do your part by clearing the path and lighting the way. Be safe out there, and have a Happy Halloween!
To read this article by Bob Vila on zillow.com/blog, please click here.
By Barbara Winfield
Fall is just around the corner: Time to get your house in shape for the cooler months ahead. Although autumn can be one of the busiest seasons for homeowners preparing for winter, it's also the best time to take advantage of the moderate weather to repair any damages before the first frost sets in. Here are some home maintenance ideas that will keep your home running in peak condition all winter long.
Exterior maintenance
Check the foundation for cracks and caulk around the areas where masonry meets siding, where pipes or wires enter the house and around the windows and door frames to prevent heat from escaping. "Caulking and sealing openings is one of the least expensive maintenance jobs," says Michael Hydeck, Hydeck Design Build, Inc., Telford, PA, and national president, National Association of the Remodeling Industry (NARI). "Openings in the structure can cause water to get in and freeze, resulting in cracks and mold buildup," he says. "Regardless of whether you live in a cold or warm climate, winter can bring very harsh conditions resulting in water or ice damage. A careful check of the outside structure combined with inexpensive maintenance can save you money in the long run."
Install storm windows and doors and remove screens. Before storing, clean and repair screens, spray with a protective coating and place in a dry area of the basement or garage.
Inspect exterior walls to see if any paint is peeling or blistering on the house or outbuildings. According to Carl Minchew, director, Benjamin Moore Paints, "Peeling paint is a sign that the existing paint film is failing and can no longer protect the siding of the building. Left uncorrected, the siding itself will deteriorate, leading to expensive repairs in the future."
Make sure the roof is in good shape. Inspect for missing and loose shingles. "Ice, rain, snow and wind combined with rapidly changing temperatures and humidity wreak havoc on roofs," says Jay Butch, director, contractor programs for CertainTeed Roofing. "Your roof is your first defense in protecting your home. Without it functioning properly, water damage can occur. This causes deterioration to insulation, wood and drywall, making electrical, plumbing and HVAC systems vulnerable. It's better to proactively deal with repairs in the fall than to discover a leaky roof during a snowstorm. For safety's sake, have a licensed, certified roofing professional check the condition of your roof."
To read the complete article, as published on Zillow.com on Sept. 13th, 2012, please click here.
Landscape lighting can turn a visitor from feeling wary to welcome. It can change the rest of the yard from "Nightmare on Elm Street" to "Some Enchanted Evening," all with the flip of a switch.
The first step in this transformation is to educate yourself about the possibilities. Because photos rarely do justice illustrating the amazing possibilities of landscape lighting, keep an eye out for good examples when you're out for an evening stroll or drive.
The strong lights typically used for entrances and to illuminate large areas, such as driveways and decks, are powered by a 120-volt current. A qualified electrician must wire them directly to your circuit box and the cables, held within a protective conduit, must be buried at least 18 inches below ground. If you have these fixtures, make sure they are UL-listed and approved for outdoor use. The 120-v outdoor lights are also preferred for security applications, especially when combined with motion detection.
When less light is sufficient, low-voltage fixtures (12- to 15-v) are the norm. These include accent lights, path lights, and small floodlights. The fixtures are smaller and less obtrusive, use less energy, and are far less worrisome when in wet locations. They can also be plugged into an outdoor receptacle, making them ideal for do-it-yourself installations. The wiring does not require tools, and the cables do not need to be buried.
Solar-powered outdoor lights, a third option, are of course dependent upon exposure to the sun, and are variable with regard to output and when they turn on. They are best used to light paths where they are exposed to full sun throughout the day. Don't put them in the shade!
Planning for outdoor lighting
Plot out your ideas on graph paper. Draw the footprint of your house to an 1/8-inch scale and sketch in all major landscape elements, including fences, decks, tree, paths, driveways and garden beds. Include the location of any existing or proposed outdoor receptacles as well.
Make notes about what you'd like to illuminate and then decide which fixtures will do the job best. Try to use a variety of lighting techniques. Avoid overly bright and dark areas, and avoid glare for both visitors and your neighbors. Do not place path lights too closely together to avoid the "runway" look. You'll also have to decide about fixture style, of which there are many!
Types of outdoor lighting fixtures
Entry lanterns or sconces: 120-v fixtures that mount beside doors. They should be either frosted glass or shielded to prevent glare. Their size should be proportional to the height and width of the entry area (often defined by a portico).
Recessed lights: 120-v fixtures typically installed in eaves over decks and garage doors. They provide large pools of light but are mostly hidden. Small, low-voltage recessed lights can be used to light stairs, railings, posts, and built-in deck furniture.
Floodlights: 120-v or low-voltage fixtures used to light wide expanses and large interesting objects, such as driveways, stonework and trees.
Path lights: Usually low-voltage fixtures that illuminate paths by casting small pools of light on the ground. Sometimes, perforations in the light shield allow the lights themselves to be used as guides.
Spot light: Similar to floodlights but with a narrower beam for highlighting a specific object, such as a shrub or statuary.
In-ground light: 120v or low-voltage fixtures that are buried in the ground and covered with a gasketed lens. The beam can be angled slightly to illuminate a wall, tree or fence.
Hanging or pendant lighting: 120-v fixtures that are frequently used for entry or porch lighting. Low-voltage hanging lights strung in trees, arbors and pergolas have become popular as decorative accents.
Tip: You can simulate the effect of many of these lights with a strong flashlight. For an uplighting effect, hold the flashlight below the object or surface you wish to light. For a downlight effect, hold it above. Hold a reflector, such as a piece of white cardboard over the flashlight, and place it beside a path to simulate a path light. If the effects you want to achieve are sophisticated, consider discussing them with a landscape lighting designer.
To read the complete article as published on zillow.com/blog, please click here.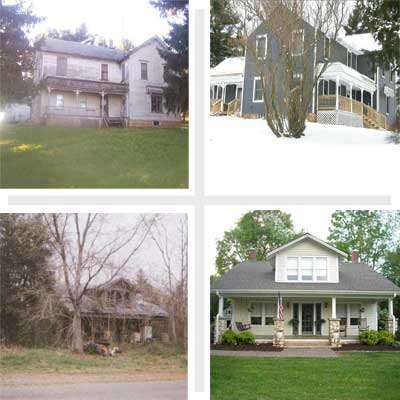 Saving an old house is no small feat. Just ask any of these homeowners, all DIYers who lived to tell the tale. From fire-damaged to foreclosures and everything in between, get inspired by these unbelievable makeovers that'll either give you the restoration bug—or make you really happy your renovation is over.
To read the rest of this article, please click here.