If you resolve to unclutter your workspace this year and tackle the piles of paper, let us help by showing you the tools to get the job done.
Pack It Up
Corral everything you can't part with into one of these vintage-inspired suitcases. No one will ever know what's inside — the'll be too busy complimenting your retro-looking desk organizers
Rank and File
It's the bland manila folder that makes you procrastinate, right? Not anymore. With file folders as pretty as these, you won't be able to resist working through what's inside. This decorative filing set includes a linen covered file holder with six coordinating folders.
Contact Points
Say good-bye to the purely functional Rolodex and hello to an index with both form and function in mind. Case in point, keep your contacts in tip-top shape inside this sleek index. This little chrome number will launch a revival of the old-school desk accessory.
Stick It
You'll ask, "Why didn't I think of this?" Incredibly simple, incredibly smart, incredibly versatile, this arcitects strap is made out of silicone and hangs outstretched on a wall just waiting to store anything from towels to shoes to magazines.
Filed Under Fabulous
"The only way to avoid piles of paper accumulating around your home is to have a home for your papers," says organizing expert Jodie Watson.
And what a better way to house your papers than in a flashy filing cabinet? Just slide this under your desk, and keep all your important documents in one safe place.
Hidden Bookshelf
If the traditional bookcase seems a bit boring, look to these wall-mounted brackets to hold and display your collection. When filled with books (up to 15 pounds) the metal brackets virtually disappear and leave only the book spines visible.
Label Maker
A set of these bronze-finish label holders will help tame any unruly bins or baskets. Use them for the home office, front entry, or anywhere you need to distinguish the bills to be paid from the permission slips to be signed.
To read the complete article as published on myhomeideas.com, please click here.
U.S. tax season officially runs from Jan. 31 to April 15. While several energy-efficient home improvement tax credits recently expired, there are still many tax breaks available to homeowners.
Whether you own a single-family home, condo, co-op apartment or mobile home, you may qualify — just be aware that, in most cases, you'll need to itemize your taxes in order to take advantage of these deductions and credits. Here are a few of the tax breaks you'll want to check out.
Mortgage interest deduction
In most cases, you can deduct all of your home mortgage interest. How much you can deduct depends on when you took out the mortgage, the amount of the mortgage and how you use mortgage proceeds. You can deduct your home mortgage interest only if your mortgage is a secured debt. Your mortgage is a secured debt if you put your home up as collateral to protect the interests of the lender. You may qualify for a mortgage interest deduction on a loan secured for your primary and second home, even if your second home is a boat or RV with cooking, sleeping and bathroom facilities.
The interest you pay on a mortgage for a third, fourth or fifth home may be deductible if the proceeds of the loan were used for business, investment or other deductible purposes; check with a tax accountant for details.
Deduction of points
If you bought a home in 2013 and paid points in order to obtain your home mortgage, these fees are included on the income tax deductions list and can be deducted. If you refinanced your home, these points are still deductible, but it must be done over the life of the mortgage.
Exclusion on sales gains
If you sold a home in 2013, you may qualify for an exclusion on the net sales gain (selling price minus purchase price plus improvements) of up to $250,000 for an individual or $500,000 for a couple. This exclusion requires that the home was used as your personal residence for two of the past five years. Things become more complicated if you lived in the house, moved out and then moved back in; be sure to consult a tax professional to see if you qualify for a partial exclusion.
Deduction of property taxes
You can deduct your state and local property taxes, as long as they are based on the assessed value of the real property. If you pay your property taxes out-of-pocket, you need to locate your bills to determine how much you paid.
If your money is being held in escrow for the purpose of paying property taxes, you cannot claim this deduction until the money is actually taken out of escrow and paid. If you receive a partial refund of your property tax, the amount of the deduction you can claim will be reduced.
Mortgage insurance deduction
Mortgage insurance provided by the U.S. Department of Veterans Affairs is commonly known as a funding fee; if provided by the U.S. Department of Agriculture Rural Development, it's referred to as a guarantee fee. The funding fee or guarantee fee can be included in the amount of your home loan or paid in full at the time of closing. These fees can be deducted fully in tax year 2013 if the mortgage insurance contract was issued in 2013.
If you pay private mortgage insurance (PMI), that's a cost you probably won't be able to deduct — unless you meet the requirements of a special PMI law that allows deductions of PMI payments on loans originated or refinanced between Jan. 1, 2007, and Dec. 31, 2013, and that meet certain loan amount limits.
Home office deduction
Beginning in tax year 2013, taxpayers may use a simplified option when figuring the deduction for business use of their home. Both homeowners and renters can take advantage of this deduction, as long as the space serves as your principal place of business and is regularly and exclusively used for business purposes. You're entitled to a deduction of $5 per square foot of the home used for business, up to 300 square feet.
If the simplified option doesn't appeal to you, you may still use the regular method (required for tax years 2012 and prior) and determine the actual expenses of your home office: mortgage interest, insurance, utilities, repairs and depreciation. If you use the regular method, deductions for a home office are based on the percentage of your home devoted to business use.
Energy-savings deductions
If you installed a geothermal heat pump, small wind turbine or solar energy system in your home in 2013, you may be able to claim a tax credit for up to 30 percent of the cost of installation. The credit has no upper limit and applies to both existing homes and new construction, but not to rental properties. This credit runs through the end of 2016.
You can also get a credit of up to 30 percent of the cost of residential fuel cells, up to $500 per 0.5 kilowatt of power capacity. This credit also expires Dec. 31, 2016.
Clergy, military housing allowance
Ministers and members of the U.S. armed services who receive a housing allowance that is not taxable can deduct their real estate taxes and home mortgage. Even better news? You don't have to reduce your deductions by your nontaxable allowance.
To read the article as published on zillow.com, please click here.
Putting up a new deck can improve both the function and look of your home and its future resale value. The costs of new decks can vary significantly, however, depending on square footage, the type of materials used and whether you choose to hire a contractor or do it yourself. So, what can you expect to pay for a deck?
Deck type and size
The most important cost consideration is the size and type of deck you want. The bigger the square footage, the more you can expect to pay. The type of deck boards you use will also factor into your overall cost. For example, using the least expensive type of lumber available, you can build an 8-by-10 foot deck for approximately $500 in materials. A raised, 10-by-16 foot deck will cost around $1,500. Expect these costs to double or triple if you use a contractor. Multilevel or wrap-around decks will add an extra cost.
Where you're putting your deck also matters. If it's low enough to the ground, you may be able to place the joists on four-way deck blocks ($10 to $20), rather than digging post holes. It's possible to level the soil and place these directly on the ground, but most homeowners choose to add gravel or a large paving stone to help keep the structure from shifting. Higher decks mean you need to pour concrete pilings for support pillars. (Your city or town will have rules about how high a deck can be before it requires certain supports.) Post holes will have to be augured and the posts set in place before any construction can begin.
Materials matter
Treated lumber is the most common type of deck material, but your options vary. Redwood, for example, is a high-quality wood choice, or you may choose tongue-and-groove pine decking ($300 to $600) to help keep bugs and plants from rooting through. PVC "boards" are also a popular option because they are weather resistant, won't crack or splinter and don't require painting. They are available both in designs that mimic wood grain and more vibrant colors as desired.
If you don't want a raised deck, consider a flagstone or poured concrete option. Both require digging, leveling and tamping of large ground sections, but they don't require painting or staining once complete. Hiring a pro is recommended for any stone or concrete work.
Pros versus DIY
If you hire a pro, expect to pay between $8 and $10 per square foot if you use standard lumber. Redwood will run you $27 and $35 per square foot. A large, multilevel deck off of a second story with staircases, for example, could run up to $15,000 if you hire a contractor, but you could do the same work yourself for half that cost.
There are several benefits to bringing in a pro, especially if you have a complex deck project. The first is experience: A contractor will know what works and what doesn't and can advise you if a particular idea is too costly or simply won't work with your house. In addition, contractors come with a crew and all the necessary tools, and they'll bring or order all the materials, meaning you don't need to worry about logistics. Make sure to get a guarantee in writing about the deck's workmanship: typically, this will cover any structural issues over a certain number of years. You'll want to make sure that the contractor you hire will take care of any permits that are required. Also ask about how your contractor will assemble your deck. Lag bolts will last longer than carriage bolts, for example.
Extras to consider
You can also improve your new deck with extras: for example, gas lines for a barbecue ($300), built-in speakers ($250) or a pergola ($300). Remember, too, that if you have an old deck, it needs to be removed. This can add up between $1,000 and $3,000 to a contractor's cost, depending on how much he charges to have your old decking hauled away. Some may include this free of charge if your project is large enough. Other extra costs may include fixes to your home if proper flashing wasn't previously used or if you have significant water damage.
To read the article as published on angieslist.com, please click here.
Laminate floors are tough and resilient, easy to care for, long lasting, and beautiful. If you treat laminate floors right, they will reward you with many years of utility and pleasure. Here are 10 tips for protecting and maintaining laminate floors.
1. Lift don't drag. Laminate floors are scratch resistant, but not scratch proof, so never drag or push heavy furniture or appliances across laminate floors. Instead, use a dolly or hand truck to move heavy items or lift and carry them.
2. Help floors and furniture coexist in peace. Use rubber casters or soft pads (stick-on felt pads are a good option) to protect laminate floors from furniture damage. Also, slightly reposition furniture occasionally.
3. Humidify, if necessary. Excessive expansion and contraction of laminate flooring as a result of wide swings in temperature or humidity can cause gaps in the joints between floor boards or even buckling. Therefore, if you live in an area with wide variations in humidity, you may want to use a humidifier to maintain a consistent level of humidity year round.
4. Keep laminate floors dry. If liquid of any kind spills on your laminate floor, clean it up immediately, since moisture can seep into the joints and cause long-term damage.
5. Remove stains with care. Always use a soft cloth when removing stains and, if you are scraping up hard-set material like dried food or candle wax, use a rubber spatula. Check with your laminate floor manufacturer for the proper way to remove tough stains like paint, nail polish and ink.
6. Clean regularly. Keep laminate floors clean by sweeping, dust mopping or vacuuming daily or every other day. For more thorough cleaning, follow the manufacturer's instructions and be sure to check your manufacturer's warranty for any maintenance requirement or limitations. For example, you may have to follow a specified maintenance schedule or use certain cleaning products to comply with the terms of the warranty. You may be able to buy a laminate floor cleaning kit from the manufacturer, but there also are effective general-purpose laminate floor cleaning products on the market. Never use soap or abrasive materials on laminate floors.
7. Don't wax. If properly cleaned, laminate floors should retain their shine without waxing. In fact, waxing laminate floors can be counterproductive, since it will dull their luster.
8. Use door mats and consider a no-shoes policy. Dirt, gravel and other abrasive materials on the soles of shoes can take a toll on laminate floors over time. Therefore, be sure you have heavy-duty mats at all entrance doors so that shoes can be cleaned thoroughly whenever anyone enters your home. You also might consider a no-shoes policy indoors, especially for family members.
9. Keep pets nails trimmed. If you have dogs and/or cats, keep their nails trimmed to avoid scratches to the surface of laminate floors.
10. Repair with care. Damage to laminate floors usually can be repaired. Whether you can do it yourself or need the help of a professional will depend on your do-it-yourself skills and the magnitude of the damage. Surface scratches can be touched up easily using repair kits containing silicon filler and colored wax sticks. Repair kits are sold by laminate floor manufacturers. More extensive damage may require replacing boards. If you plan to tackle board replacement yourself, first check with the manufacturer for instructions and tips on how to complete the process.
To read the article as published on voices.yahoo.com, please click here.
The end of the year brought many things. Special time spent with family and loved ones. Presents from Santa. The promise of a fresh start. And, if you're like us, an insatiable desire to change up your environment by updating it with the latest trends.
If you are feeling the pull toward renovating, redecorating, or revising your home for 2014, there are some exciting trends you may want to incorporate. We break it down for you below.
Color Trends
Radiant orchid is the Pantone color of the year, but color trends for 2014 are also feeling blue. Blues across the color wheel are predicted to be hot hues for 2014.
Navy, in particular, has captured the fancy of design experts. "Navy blue will be a big trend for 2014. I'm seeing a lot of the shade on the runways, on the streets, in editorials, in chic interiors… I actually think everyone will get it in 2014," said designer Mark D. Sikes in House Beautiful's Top Decorating Trends for 2014.
Glamming It Up
Another way to change up your space: inject a glam feel as a nod to art décor or the Great Gatsby. This is another hot 2014 trend showing up in wallpaper, textiles, furniture, and accessories.
"Move over white walls, in 2014 we'll be seeing rooms with a lot more drama and glamour. Dark, moody walls in black will be the perfect backdrop to the metallic accessories that we're all loving right now," said Jeanine Hays of aphrochic.com in House Beautiful.
In the Kitchen
When it comes to renovating, kitchens are going glam too. "The kitchen has long since become the heart of the home, and now designers are dressing it up accordingly," said Elle Décor, "with elaborate custom cabinetry painted in rich gemstone colors, and accented with gleaming brass or chrome, all lit by unusual lighting fixtures. Kitchens are becoming downright glamorous."
Floating shelves are also a hot 2014 design trend according to remodeling firm the Neil Kelly Company.
Bathroom Beauties
A recent Hanley Wood survey revealed that 58 percent of those planning to renovate in 2014 are planning bathroom updates.
The trend toward creating a spa-like environment in the bathroom continues, with "clean lines, fluidity and futuristic bath fixtures. Bring a spa-like feel to your master bath by indulging in floating sinks and softer, contoured shapes that bring a serene feel to the bathroom and give a feeling of spaciousness. Add depth to the bathroom by incorporating textures in the bathroom with mosaic tiles that feel luxurious and modern. Blend in futuristic trends like a waterfall shower, modern touch faucets, and heated floors to add interest and visual splendor," said Scott Yancey from Flipping Las Vegas.
Kelly agrees, emphasizing oversized walk-in showers and elegant standalone tubs as strong bathroom trends for 2014.
The Tech Touch
For those who are remodeling, Kelly also points out the No. 1 trend for 2014 that brings some much-needed tech help to the home. U-Socket is a wall plug that "has two built-in USB ports to power devices including iPhones, gaming devices, digital cameras, Kindles and iPads… and features a smart sensor that allows it to shut off when the device is fully charged."
To read the original article as published on realtytimes.com, please click here.
At The University of Southern California, Professor Behrokh Khoshnevis has built a colossal 3D printer that can build a house in 24 hours. Khoshnevis's robot comes equipped with a nozzle that spews out concrete and can build a home based on a set computer pattern.
We first saw this on MSN.com. The technology, known as Contour Crafting, could completely revolutionize the construction industry. Discover Magazine's Brad Lemley explains that workers would lay down two rails for the robot to operate on.
From there, the Contour Crafting system would glide along the rails and lay down cement. Once that part of the process is finished, humans would do the rest of essential tasks like hanging doors and installing windows.
Contour Crafting could also reduce the total cost of owning a home. It could also make it easier to repair homes damaged by devastating weather events.
While this project is still being tested, Khoshnevis asserts that this won't eliminate jobs in this sector, but actually create more.
To read the original article as published on businessinsider.com or to view a video on how this works, please click here.
Some homeowners consider trying to sell their home on their own, known in the industry as a For Sale by Owner (FSBO). We think there are several reasons this might not be a good idea for the vast majority of sellers.
Here are five of our reasons:
1. There Are Too Many People to Negotiate With
Here is a list of some of the people with whom you must be prepared to negotiate if you decide to FSBO.
•The buyer who wants the best deal possible
•The buyer's agent who solely represents the best interest of the buyer
•The buyer's attorney (in some parts of the country)
•The home inspection companies which work for the buyer and will almost always find some problems with the house
•The appraiser if there is a question of value
•Your bank in the case of a short sale
2. Exposure to Prospective Purchasers
Recent studies have shown that 92% of buyers search online for a home. That is in comparison to only 28% looking at print newspaper ads. Most real estate agents have an internet strategy to promote the sale of your home. Do you?
3. Results Come from the Internet
Where do buyers find the home they actually purchased?
•43% on the internet
•9% from a yard sign
•1% from newspapers
The days of selling your house by just putting up a sign and putting it in the paper are long gone. Having a strong internet strategy is crucial.
4. FSBOing has Become More and More Difficult
The paperwork involved in selling and buying a home has increased dramatically as industry disclosures and regulations have become mandatory. This is one of the reasons that the percentage of people FSBOing has dropped from 19% to 9% over the last 20+ years.
5. You Net More Money when Using an Agent
Many homeowners believe that they will save the real estate commission by selling on their own. Realize that the main reason buyers look at FSBOs is because they also believe they can save the real commission. The seller and buyer can't both save the commission.
Studies have shown that the typical house sold by the homeowner sells for $184,000 while the typical house sold by an agent sells for $230,000. This doesn't mean that an agent can get $46,000 more for your home as studies have shown that people are more likely to FSBO in markets with lower price points. However, it does show that selling on your own might not make sense.
Bottom Line
Before you decide to take on the challenges of selling your house on your own, sit with a real estate professional in your marketplace and see what they have to offer.
After 2008, many would-be home sellers couldn't get the price they needed to sell. Or worse, their homes were underwater. And so, some homeowners were forced to become "accidental landlords."
This year, as the real estate market continues to rebound in many parts of the country, millions of homeowners will consider getting back in the market. But this time, they're trying to sell a tenant-occupied home.
A tenant can make or break your sale. You have to plan well in advance and communicate openly with your tenant to have a successful sale. In some cases, you may even have to postpone it. If you're the owner of a tenant-occupied property that you want to sell, you've essentially got two options. Here's what you need to know about each.
Option 1: Wait for the lease to expire
Most real estate agents would argue that a seller should wait for the rental agreement to expire. Tenants can sometimes be a bit of a wild card in the high-stakes real estate game, so some agents feel it's best to proceed after the tenant leaves. After that, make some cosmetic fixes to clean up the home and sell it vacant.
This may be especially important if you have a difficult tenant or one who is unhappy that their home is "being sold out from under them." The last thing you want, is to make showing the home more difficult — and a disgruntled tenant could easily do that by mucking up paint or leaving his place a mess. The result is that your property looks less appealing to potential buyers, which can have a dramatic effect on your bottom line.
On the other hand, selling a vacant rental unit isn't always ideal for the seller's finances. It can take months from the time the home goes on the market until it's sold; that's time during which the landlord receives no rent. This can be especially trying for sellers whose homes have been a long-term financial burden.
Option 2: Sell while the tenant is still there
It can be beneficial to keep your tenants in your home during the marketing and sales process, provided you have a good relationship with them. Homes show better with furniture, giving buyers a better feeling for what it would be like to live there.
Ready to sell but have a tenant in place? Do your best to work with them. Most tenants, upon hearing that the landlord would like to sell, immediately start looking for a new place to live. They'd rather just move on and not have to deal with keeping their home clean all the time, showings and phone calls from agents.
If your home is in a desirable neighborhood, you plan to price it right, and you believe it could sell quickly, use your tenant to your advantage. Lower their rent for a month or two leading up to the showing and/or selling. If you can get them to stay and cooperate through open houses and showings, tell them that you'll guarantee them enough time to find another place and move. Also, if they're helping you to get the home sold quickly, offer to help pay their moving costs.
Give thought to the message, delivery
Most tenants really don't want to hold up your sale. Others will protest, and those are the ones who make the headlines or get talked about in real estate war stories.
If you have difficult tenants and suspect they won't be cooperative, simply let the lease run out. Or find a way to legally take the home back and sell it vacant. But if you have a good relationship with your tenant, try to work with them. No tenant wants to be surprised with little (or no) notice that they must vacate.
Ultimately, the success of dealing with a tenant during a sale is less about the message itself, but in how the message is delivered.
To read the article as published on zillow.com, please click here.
The simple act of planting a tree is a gift of nearly immeasurable value. A tree will add natural beauty and cool shade to your property, and life-giving oxygen to the planet. And if that weren't enough, a tree is a gift that can be enjoyed for generations to come.
However, for a tree to survive long enough to reach full maturity, it must get a healthy head start with a proper planting. To learn the correct way to plant a young tree, we turned to our resident expert, This Old House landscaping contractor Roger Cook.
Here, Roger shares his secrets for each step of the planting process from digging the hole to watering techniques for proper hydration. And don't miss his comprehensive three-year plan for maintaining a young tree.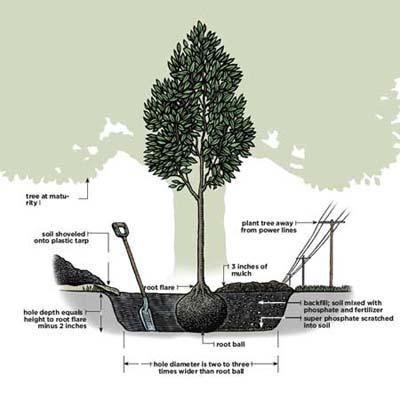 planting-a-tree diagram
«»
Planting a tree isn't particularly difficult because you don't need any special tools. With a shovel, tape measure, and garden hose, plus the strength and patience to dig a hole, it should take only a few hours. Planting it right, however, does require some attention to detail. Here, This Old House landscape contractor Roger Cook shows how to add a young shade tree to a sunny front yard.
Surprisingly, tree planting is often done incorrectly, says Roger. "I see improperly planted trees all the time, many of them put in by professional landscapers."
The most common mistake is burying the entire root ball because the hole is too deep. Not watering enough after planting is another common mistake. Roger suggests tying drip- irrigation bags to the tree and refilling them everyday.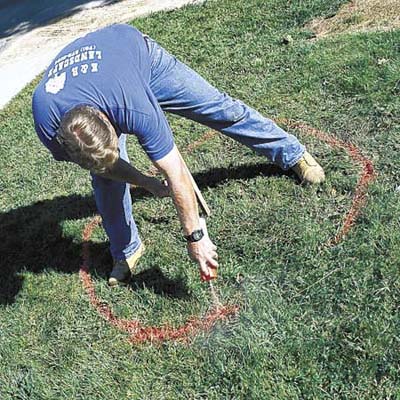 marking the ground to plant a tree
«»
Decide where you want the tree. Stay at least 15 feet away from the house, sidewalk, driveway, and other trees. Also, watch out for overhead power lines — most shade trees will grow at least to the height of residential power lines. Drive a stake into the ground at that spot.
Measure the diameter of the tree's root ball.
Use a can of brightly colored spray paint to mark a circle around the stake that's two to three times wider in diameter than the root ball.
Tip: Use special marking paint, which has a spray nozzle that works when the can is tilted upside down.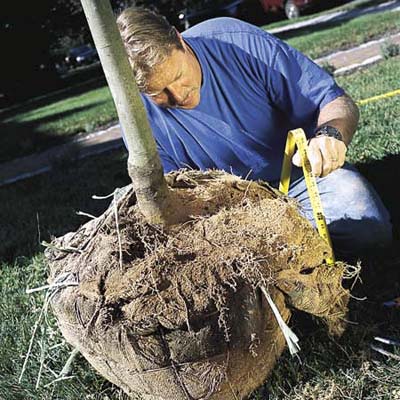 measuring the height of the root ball of a new tree
«»
Stand the tree upright and untie the burlap from around the base of the trunk.
Use a cultivator or garden trowel to carefully remove the soil from the top of the root ball. Excavate only enough soil to expose the root flare, which is where the trunk spreads out into the individual roots.
Now, measure the height of the root ball from the ground to the top of the exposed root flare.
Tip: Don't untie the burlap beyond the root flare at this point.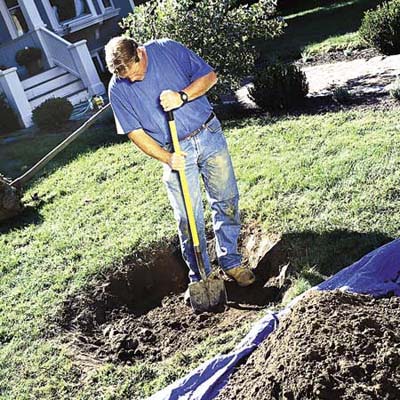 digging the whole for a tree
«»
Subtract 2 inches from the height of the root ball; that's how deep to dig the hole. It's critical that you don't go any farther, since a deeper hole will bury the root flare.
Use a pointed shovel to cut through the grass all around the perimeter of the painted outline. Remove the grass and discard it or transplant it elsewhere; don't use it to backfill the hole.
Spread a plastic tarp beside the hole and shovel the soil onto the tarp, not directly onto the grass, so you can easily get it back into the hole when the time comes.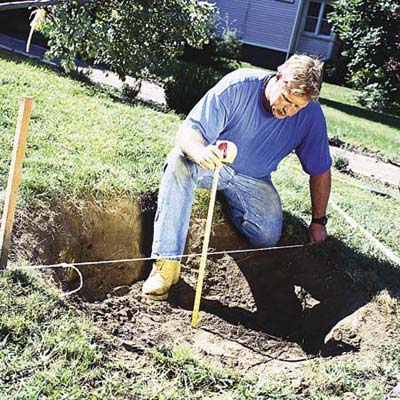 measuring the depth of the tree hole
«»
Drive a stake (or your shovel) into the ground beside the hole and tie a string to it at grass level.
Pull the string taut across the hole and measure down from it to the bottom of the hole.
If necessary, dig out more soil to reach the desired depth. Then use the shovel to scrape the bottom of the hole flat.
Dust the hole with superphosphate, which will promote a healthy root system, following the directions for your size tree on the packaging.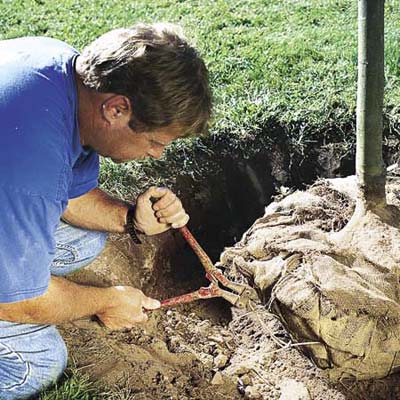 positioning the tree
«»
Carefully carry or roll the tree into the hole.
Stand back and view the tree as a helper slowly rotates it. Look for the tree's best face (every tree has one) and position it so the face is aimed in the most prominent direction—typically toward the street.
Remove the wire basket from the root ball with bolt cutters or metal snips.
Tip: To avoid damage, have a helper support the crown of the tree as you move it.
Twice-monthly advice for bringing your home outdoors, from year-round yard upkeep and planning to the wonders of making your garden grow, plus special offers.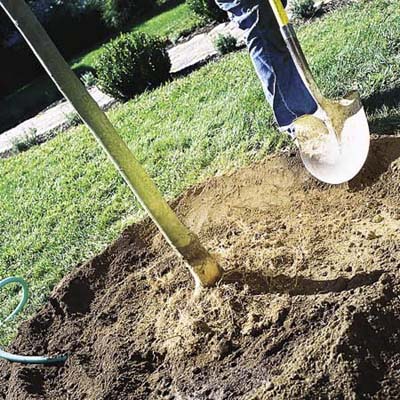 backfilling the hole when planting a new tree
«»
Spread superphosphate and 3-4-3 fertilizer onto the soil pile, using the amounts recommended for your size tree on the packaging, and scratch it into the soil.
Thoroughly mix up the soil, then start shoveling it into the hole. Be careful not to bury the root flare.
When the hole is full, use the blade of the shovel to form a 6-inch-high curbing around the tree.
Next, use a garden hose to fill the crater you created with water. As the water absorbs into the soil, knock down the curbing and smooth out the dirt.
Um, honey…what's that sound?
Does your furnace seem sluggish? Is it putting out little heat? When is the last time you changed the filter? Is there an exploding or rumbling sound when the furnace lights off? How can you tell if something may not be right with your gas furnace?
A gas furnace has an operating rhythm sort of like your heart: it should take a certain amount of time to start and light off, it should run a prescribed amount of time, and then it should cool down and shut off. If this cycle becomes irregular, this may be indicative of a problem.
A gas furnace has a heat exchanger that circulates hot combusted gases internally. Over time, it is possible that the heat exchanger can crack and emit carbon monoxide. Carbon monoxide poisoning usually presents initially as shortness of breath, nausea, headache, and/or dizziness. If you experience any of these symptoms, turn off the furnace, exit the house, and immediately seek medical attention.
And how about those heat pumps?
The heart of the heat pump is the compressor, which is the key component to supply heat and cooling, and it can give you several indicators of potential failure.
The unit might stay on longer than it should and may supply little warm air. Remember, heat pumps average 20 to 30 degrees lower heat temperature than a gas furnace.
The unit might also be stopping and starting frequently and blowing circuit breakers. Don't put in a higher-rated circuit breaker as this could cause a fire.
Other indicators of heat pump maladies might be higher energy bills while maintaining the same settings, the unit might "hum" but not start, or there might be heat coming out but it smells like a toaster.
If you experience any of these scenarios, give your local HVAC company a call.